Service Desk Ticket Creation
Ivanti Training
When you submit a ticket for a service request please follow these steps to select the proper categories and subcategories. This will ensure your ticket is routed and resolved in a timely manner.
Select Submit Ticket where you will then be directed to Login on the Landesk page. After logging in you will see the following:
Choose a category
In the category drop down you will see the following categories: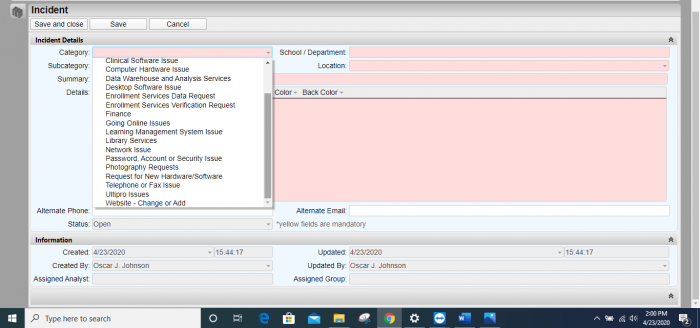 Choose a sub-category for your issue/request and you will see the following: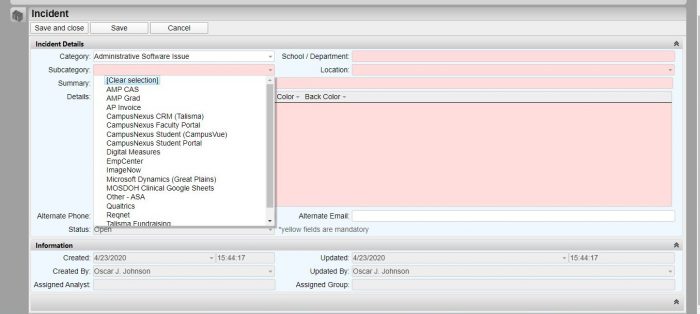 Look through the following groups to locate the Category needed, pay close attention to the Assign Group and Subcategory to assure your ticket is going to the correct department.
CATEGORY-Data Warehouse and Analysis Services
ASSIGN GROUP-Administrative Systems            
SUBCATEGORIES
·        Dashboard and Reporting
·        Data Analysis
·        Data Warehouse
·        Other DWAS
·        Tableau
CATEGORY-Administrative Software Issue         
ASSIGN GROUP-Administrative System
SUBCATEGORIES
·        AMP CAS
·        AMP Grad
·        AP Invoice
·        Campus Nexus CRM (Talisma)
·        Campus Nexus Faculty Portal
·        Campus Nexus Student (Campus Vue)
·        Campus Nexus Student Portal
·        Digital Measures
·        EmpCenter
·        Image Now
·        Microsoft Dynamics (Great Plains)
·        MOSDOH Clinical Google Sheets
·        Other-ASA
·        Regnet
·        Talisma Fundraising
·     
CATEGORY-Website-Change or Add
ASSIGN GROUP-Communication and Marketing AZ
SUBCATEGORIES
·        Academic Affairs/Accreditation
·        Accessibility/Usability
·        ASDOH/ASHS/CGHS/KCOM/MOSDOH/SOMA
·        ATSRI/Research
·        Continuing Education/ Diversity/Museum
·        Friendly URL's/ Redirects
·        Other/Not Listed
·        Portal Content
·        Student Affairs/ Admissions/ Enrollment Services
CATEGORY-Website-Change or Add
ASSIGN GROUP– Administrative Systems
SUBCATEGORY– Catalog
CATEGORY-Telephone or Fax Issue
ASSIGN GROUP-Support Services
SUBCATEGORY-Telephone
CATEGORY-Telephone or Fax Issue
ASSIGN GROUP-Network
SUBCATEGORY-eFax
CATEGORY-AV Request
ASSIGN GROUP-Academic Technologies
SUBCATEGORIES
·        AV Equipment Maintenance
·        Classroom Recording and Support
·        Graphics, Imaging and Storage
·        Lecture Recording
·        Live Event Streaming and Recording
·        Other-AV
·        Video and Web Conferencing
·        Video Production (Recording, Editing, Rendering, Uploading)
CATEGORY-Desktop Software Issue
ASSIGN GROUP-Support Services
SUBCATEGORIES
·        Desktop Software-Other
·        Google App/Email
·        Microsoft Office Products
·        Windows and MAC Operating Systems
CATEGORY-Desktop Software Issue
ASSIGN GROUP-Network
SUBCATEGORY-File Access and Storage
CATEGORY-Learning Management System Issue
ASSIGN GROUP-Academic Technologies
SUBCATEGORIES
·        Blackboard
·        Canvas
·        Echo 360
·        Other-LMS
·        Turntin
CATEGORY– Learning Management System Issue
ASSIGN GROUP-Support Services
SUBCATEGORY-Sagence
CATEGORY-Library Services
ASSIGN GROUP-Library Services
SUBCATEGORIES
·        ETDC-LibGuides
·        ETDC-Other
·        ETDC-Software Consult
·        ETDC-Software Tutorial
·        Lib-3D Model Printing
·        Lib-Alumni Access
·        Lib-Broken Link
·        Lib-Preceptor Access Clinical
·        Lib-Clinically Access
·        Lib-Database Access
·        Lib-eBook Problems
·        Lib-Error-Access not Authorized-Account Status
·        Lib-EzProxy
·        Lib-One Search
·        Lib-Other
·        Lib-Poster Printing
·        Lib-Up to Date Access
CATEGORY-Going Online Issues
ASSIGN GROUP-Support Services
SUBCATEGORY-Going Online Issues
CATEGORY-Ultipro Issues
ASSIGN GROUP-HR/PR
SUBCATEGORY-Ultipro Issues
CATEGORY-Network Issue
ASSIGN GROUP-Network
SUBCATEGORIES
Database Support
Firewall
Other-NW
Server Install or Support
Wired Connectivity
Wireless