Identification Badges
All ATSU residential students, employees and campus visitors are required to wear ID badges when on campus. Badges are also an integral part of the student printing system. Badges can be obtained from the ITS Service Desk office on the Missouri campus and from Security on the Arizona campus.
How do I get my ID Badge?
Employees (Faculty/Staff)
On the first day of employment, new on-campus faculty/staff will be directed to the ITS Service Desk (Kirksville) or Security (Mesa) in order to have their ID picture taken and an ID badge issued. Off-campus employees can request a badge via a support ticket

Previous badge style (being phased out)
Residential Students
Missouri Campus: New residential students will be provided a photo ID badge during student orientation. Student pictures will be taken and in turn, printed on your id badge. You'll be notified during orientation where to pick up your ID badge.
Arizona Campus: New residential students will have the photo for their ATSU ID badges taken during new student orientation and be informed where to pick up individual badges.
For both campuses: New students who missed having their photo taken during new student orientation must submit an IT support ticket to request to have their photo taken. Those students will receive an email when and where to pick up their badges.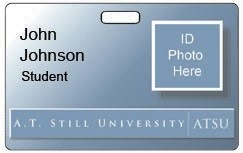 Previous badge style (being phased out)
Note that each student's badge will be labeled with the appropriate discipline:
ASDOH and MOSDOH- Student Dentist
ASHS-AT – Student
ASHS-AUD – Student Doctor of Audiology
ASHS-OT – Student
ASHS-PA- Physician Assistant Student
ASHS-PT – Student Doctor of Physical Therapy
KCOM and SOMA – Student Doctor
Online-only programs (upon request)- Student

Online Students

Online Learning students are not required to have an ID badge, but if you want or require one for personal reasons, you can request an ID badge from the ITS Service Desk (via submitting a support ticket). The ITS Service Desk will verify that you are an active student, and a picture-less badge will be mailed to you. In your request for a badge, please include your current mailing address. You may also attach an appropriate business-style picture containing your head and shoulders against a plain background if you need a pictured badge.

Campus Visitors
Each office that hosts visitors should provide their visitor with a badge while on campus. If you do not have visitor badges in your department, open a Service Desk ticket (for Missouri campus) or contact Security (for Arizona campus) and badges will be provided.
Replacement Badges
Replacement badges will be issued for lost IDs at the charge of $10 each payable to the Controller's Office. The service desk will provide replacements for the Missouri campus and Security for Arizona. St. Louis campus students can request replacements via a service desk ticket.