Faculty Web Profile FAQs
Faculty web profiles appearing on ATSU's public-facing website:
Market ATSU to prospective students, researchers, faculty, ATSU Board of Trustees, etc.

Add to ATSU's story and highlight our esteemed faculty

Establish visibility/connections for ATSU alumni or other donors

Increase professional collaboration on grants, teaching, and service
Data that displays on the new faculty web profile is sourced from Digital Measures (faculty activity system). This document serves to provide instruction and guidance on best practices for faculty web profiles displayed on ATSU's webpage. Following are additional resource links to aid in developing faculty web profiles:
How do I change information on my Web Profile?

New
Your web profile is created and updated using Digital Measures data content. If you add new publications, presentations, awards/honors, service… in Digital Measures and Allow Sharing is "Yes" your web profile will update instantly or with a screen refresh.
How do I get a photo added or changed?

New
Your Web Profile photo is managed by Communications and Marketing (C&M) and not the imported photo in Digital Measures. C&M offers periodic photo sessions on Campus. If you are offsite you can submit a ticket to C&M with your own Photo and C&M will resize the image and place in the Web Profile repository. Photo requirements are:
300px tall by 72 dpi
Solid background; preferably grey background
Why can't I add new Grants or Scheduled Teaching?

New
ATSU Grants are updated quarterly from Sponsored Programs in Digital Measures. In addition, our Student Information System (SIS) Anthology Student updates nightly when new courses start with course and instructor(s) information.
How can I make suggestions for changes, additions to the Digital Measures system?

New
Submit an ITS ticket for any suggestions for improvement that you may have.
What do I need to do to have a Faculty Web Profile on the atsu.edu website?
Complete the Marketing and Consent e-form in Digital Measures for the current academic year. Make sure to select "Add New" to pull up the e-form.

Review the data content for the following highlighted screens:

Ensure your Biography adheres to the C&M style guidelines format of Name, Degrees (DO, DMD, Phd, MS, MPH …) and then your brief biography written in 3rd Person format (he, she, him, her), not first person (I, my, we, our). For example, Jane Atsu, DO, MS is professor of …
Select items to display (Allow Sharing to YES) for Awards and Honors, Presentations, Publications, and all Service screens. Move the slide bar to Yes for items to display on your web profile.

Review your web profile for accuracy and clarity (remove abbreviations) at this link to the site that will be displayed on ATSU.edu when we activate the new system. Also consider getting a new headshot photo from C&M to display.
What will faculty web profiles look like?
A searchable faculty directory with all faculty web profiles will be displayed on ATSU's website. Below is a sample of what it will look like with a summary and full profile (General info, credentials, instruction, scholarship and service):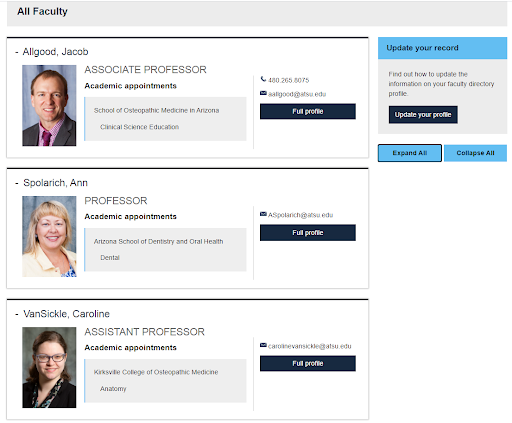 Full profile example:
Faculty consent and accuracy
Each year faculty must approve the following information electronically related to their Digital Measures data content:
Note: Per ATSU's Faculty Handbook, it is strongly recommended all faculty publicly share scholarly activity. To completely opt out of a faculty web profile, please submit your request to Human Resources for approval.
The following data is maintained in Digital Measures and utilized within the new ATSU faculty web profile:
Personal & contact info (Name, academic rank, school, and department)

Biography

Degrees and education

Licenses/Certifications

Awards and honors

Publications and presentations

Service (Clinical, university, public, and professional)

Scheduled teaching (Optional by school)
Professional headshot
ATSU Communication & Marketing (C&M) will maintain a repository of official faculty web profiles that are uniform in size, background, and resolution to be displayed on the faculty web profile. It is suggested professional headshots not be more than two years old. Please submit an ITS ticket via ATSU's Portal under the ITS ServiceDesk icon to request a new professional headshot. Tickets will be routed to C&M and a date will be scheduled by C&M to take your professional headshot.
Personal & contact information
This information is sourced from Human Resources' UltiPro system and loaded into Digital Measures. To make changes to this data, submit an ITS ticket to request changes via ATSU's Portal under the ITS ServiceDesk icon.
Biography
Within Digital Measures, enter a summary biography in the Biography and Expertise screen. It should start with your Name, Degrees (DO, DMD, Phd, MPH …) and be written in third person (he, she, him, her), not first person (I, my, we, our) and tell a story of your journey. Your audience includes prospective students, alumni, donors, ATSU Board of Trustees, faculty collaborators, etc.
Following is an example:
Degrees & Education
This information is a chronological listing of degrees you've earned. Make sure to spell out your institution with its proper name and review for accuracy. Ensure a degree is selected, not left blank. If the degree isn't listed within the drop-down menu, select "Other," and enter the degree. Any futuristic degree completion dates will not be included.

Licenses and certifications
Enter your completed licensures and certifications within the Digital Measures Licensures and Certifications screen. Make sure to use official titles and organization names (no acronyms). Only the year obtained is displayed.
Awards and honors
Select the appropriate awards and honors to display on your web profile within the Awards & Honors screen in Digital Measures with the "Allow Sharing" slide bar. Ensure the award and organization name are official names and not abbreviated or acronyms.
Scholarship
This includes Digital Measures Publications and Presentation screens. Select appropriate scholarly works to display by using the "Allow Sharing" slide bar. Ensure titles are understandable and limit your selection to 10-15 works for optimal page display.
Service
For each of the four service areas (clinical, university, professional, and public), select the service activities to display by using the "Allow Sharing" slide bar. Ensure titles, roles, and organizations and start and end dates are not abbreviated or blank, and each are clearly identified. Limit your selection to 10-15 service activities for optimal page display.
Below is an example of service displayed on the web profile: