Echo360 Universal Capture
Echo360 Universal Capture is the simplest video application for education that provides identical capabilities, and a consistent user experience across Mac and PC.
Personal mode is a stand-alone version of the Universal Capture desktop application. Recordings are created on an ad hoc basis and can be published to a section or library by default. Any combination of video, desktop, and audio can be recorded.
To download Universal Capture, visit the Echo360 section of your Canvas site (located in the left side navigation of a Canvas course). Then click the settings icon
and choose Downloads. 
Now you can download the installer for Universal Capture for the platform of your choice (Mac or Windows).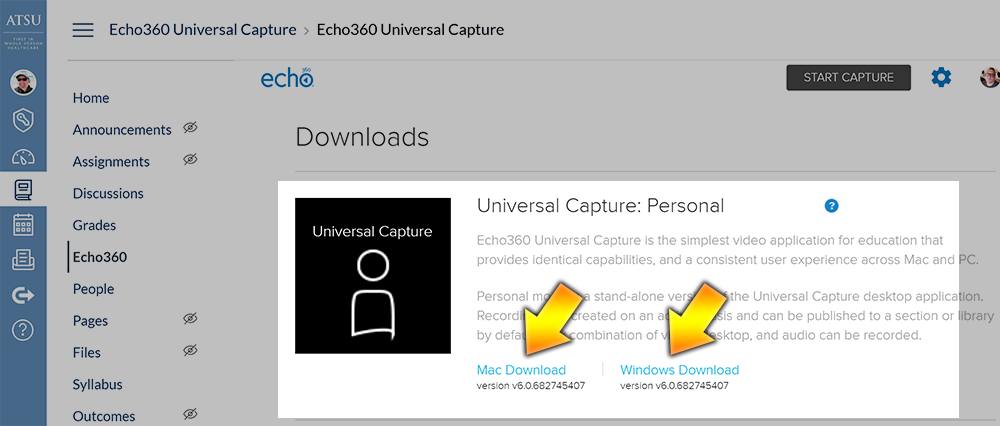 Once you've installed the program, open it.
It will ask you to login – a process which takes you through the Echo360 login portal authentication system. When you log in you'll be advised that your browser is about to switch applications. Click Yes or "Open Echo360 Capture" it may look different depending on your web browser. This is what the message looks like in Google Chrome:
Now, you'll be taken to your Echo360 Universal Capture instance.
Before you start recording, you'll need to fill in some capture details. Here, on the top left of the interface, you'll see a place to add a name to your capture.
In this form you can decide where you want your video to go once you're done recording it.
With Universal Capture, recordings are not stored on your hard drive. So in the "Publish To" field, you can select to publish it directly to your course site or to your library.
Now that you've set up the meta-data and the upload location of your file, it's time to start recording. 
You'll need a microphone connected into your system. The display windows show whatever computer monitors or webcams are detected by the software.
Many people choose to record both a camera video of themselves, especially for introduction videos, and their screen, while some choose to record just the computer screen while they narrate/annotate. There are lots of creative options for you!