Digital Measures' Activity Insight User Guide
The process for maintaining information within Digital Measures contains an initial data load and then subsequent monthly information updates for new activities.
Digital Measures' Activity Insight Data Entry Cycle
After logging in to Digital Measures you will see the Activity Insight Main page.
There are 5 Main Areas of Faculty Activity, some information has been preloaded for you and others will require data to be entered:
General Information
Teaching/Mentoring
Scholarship/Research
Service
Goals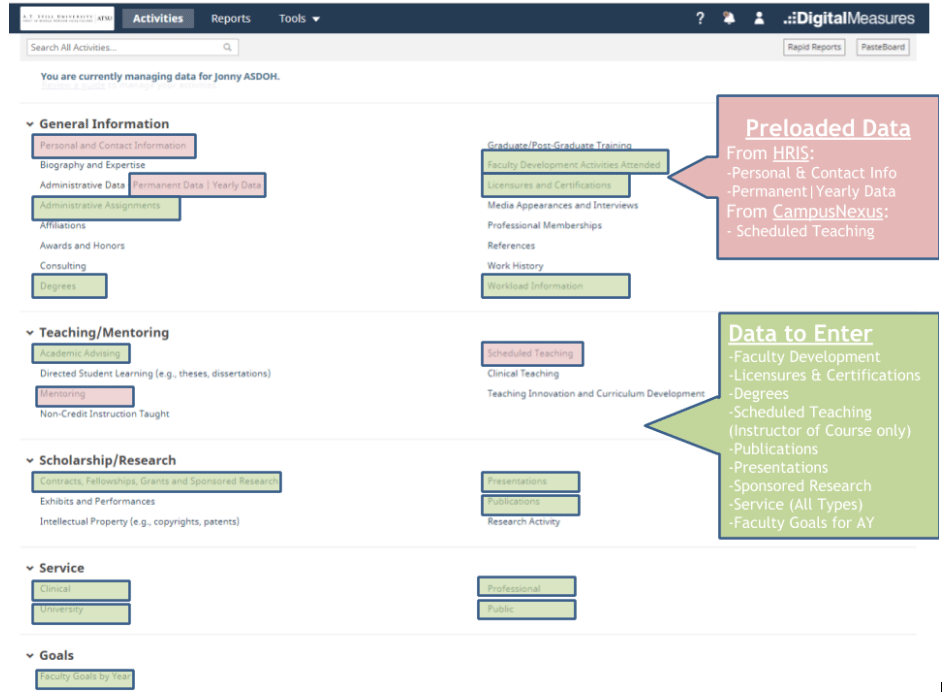 Data Entry Tips
In particular the following are important tips for when first entering data into Digital Measures. Also, check out the faculty/staff guide on the Digital Measures website
Digital Measures Faculty/Staff Guide
Entering Dates
Dates entered for Faculty activity are critical and at a minimum you can enter the year the activity took place to allow for subsequent reporting. If no date information is entered it will not show up in reports.
Long Text Entry
If you have a long string of text to enter into Digital Measures, it is best to enter the data in a Word document and then cut and paste into the Digital Measures entry screen. This avoids entering data into Digital Measures and then being interrupted and being timed out (90 min)of the your DM session and losing your data entry.
Using PasteBoard
The PasteBoard feature allows you to copy a large amount of text from another document (ie CV from Word) and paste it into PasteBoard. The select text from PasteBoard and click-and-hold on the selected text and drag into the input screen field. See more information on PASTEBOARD here.
Quick Reference Guide to Digital Measures' Activity Insight Screens
This guide provides direction for what Digital Measures screen to enter your Faculty Activities. Not every screen requires input the items highlighted in green are the minimum required if applicable.