Respondus 4.0 installation instructions
Installation instructions

Download Respondus 4 (must use your ATSU account when prompted)
To start the installation immediately, click Run This Program From Its Current Location > click Yes if prompted by a security warning.
To copy the download to your computer for installation at a later time, click Save This Program to Disk. When the download is complete, double-click Respondus4Campus.exe to start the installation.
Open the Respondus software and you will be prompted to enter the license key.

Institution Name: A.T. Still University of Health Sciences
Local Support Contact(s): Brent Rasmussen brasmussen@atsu.edu, Dean Maag dmaag@atsu.edu
Installation Password: Y2307I372532103R34a79475854c0569
(Password valid through the end of: July 2023) Some have found problems entering the password, try copy and pasting the password, then delete the last letter "9", and then type "9", then continue and it should work.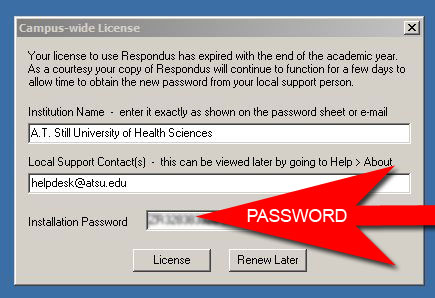 Then click the

License

button.
You can also check for software updates once you are in the software by clicking on the Help button on the top and choosing the Check for Update menu item.