How to setup Respondus 4.0 to work with older Blackboard
1. Check for updates to Respondus to make sure you are running a current version. Click on the Help menu and choose "Check for Update"
2.. Make sure you are on the correct Respondus profile for Blackboard: Blackboard 7.x – 9.x. This setting is changed on the home page of Respondus.
3. Go to the "Preview & Publish" tab to Update Settings. In the "Choose Server" box pick -add new server-
4. In the "Add New Server Settings" dialog box, choose "Yes, check for preconfigured settings" Click Next. Follow the instruction to name the server connection and enter your username and password
If the automatic setup does not work click "No, I want to enter the server settings manually." Click Next.
5. The "Blackboard Server and Course" dialog box will appear.
– In the first box put in the settings for our Blackboard server https://mycourses9.atsu.edu/
-In the second box, you need to go login to Blackboard 9.1, go into one of your courses and copy the long URL from the address bar in your browser. Then paste this URL into the #2 input box in the Respondus "Blackboard Server and Course" dialog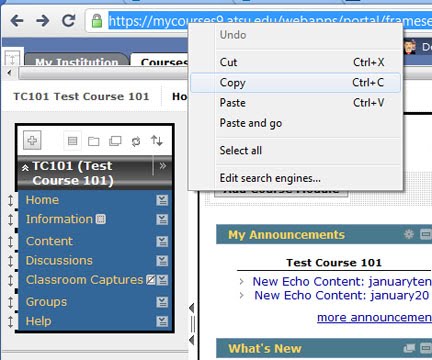 – Press the "Extract >>>" button to populate the server settings.
-In the "Description" box- type in a descriptive name for this connection- like "Blackboard 9.1"
-Put in your own User Name and Password
– Click OK in the top right corner
6. You should now be connected and able to choose to publish quizzes and exams from Respondus to a list of your own Blackboard courses.