New Faculty Activity Management System – Digital Measures
In order to improve ATSU's process of capturing, recording and reporting faculty accomplishments and professional activities, the Digital Measures Activity Insight system has been selected for implementation across all ATSU schools by January 7, 2019.
The Activity Insight software is currently being configured to meet ATSU's requirements and will support the following processes:
Annual Faculty reviews
Faculty promotions
Accreditation requirements
Annual Board Reports -Articles Published
Annual reports – Faculty Scholarly Activity
Resumes and CVs
Dynamic faculty web profiles (future use)
Grant applications (future use)
ATSU Project Team Organizational Chart
Find your representative below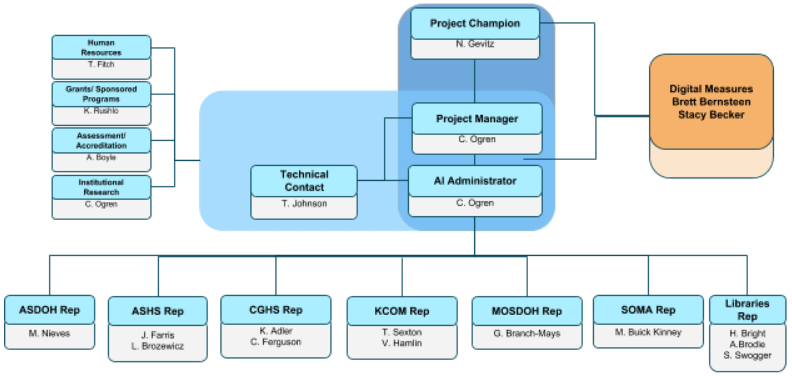 Implementation Timeline
What information is required?
Faculty will have some HR system data pre-populated into Digital Measures as well as Courses taught from CampusNexus, the remaining information will need to be entered by Faculty into the Digital Measures system.
Major Data areas:
Faculty General Information

Degrees
Awards and Honors
Licensures and Certifications
Faculty Development Activities Attended

Teaching/Mentor Activity

Scheduled Teaching Courses  (Course Directors to Enter other Instructors)
Teaching Innovation and Curriculum Development
Advising
Mentoring (KCOM and SOMA data Pre-populated from list)

Scholarship/Research

Contracts, Fellowship, Grants and Sponsored Research (Populated from Sponsored Programs database)
Research Activity
Publications
Presentations

Service

Clinical
University
Professional
Public
Higher Impact with shared Digital Measures
What Reporting exists in Digital Measures?
There are pre-existing reports (listed below). Additionally users have the ability to create custom reports to select what data and time frames to display on a report. Shown as Create A New Report.
Digital Measures currently contains the following reports:
Annual Activity Report
Report required for Faculty Reviews and Promotions that lists activities for a given timeframe.
Type of Report: Summary and Detail
Academic Degrees Earned
Lists the Faculty members degree(s) and what schools and when they obtained them.
Type of Report: Detail
Awards and Honors
Lists Faculty member's specific awards and honors from what organization and when they obtained.
Type of Report: Detail
Birthday Report by Month
Lists the birthday of Faculty along with their department name for each month.
Type of Report: Detail
Contracts, Grants and Sponsored Research by Faculty
Lists Faculty member's Grant/Research efforts with Titles, Awarding Org and dollar amounts.
Type of Report: Detail
Creative Works by Faculty
Lists creative Works by Faculty.
Type of Report: Detail
Editorial and Review Activities by Faculty
Lists any Faculty that have entered Editorial Review Board roles within the Professional Services screen.
Type of Report: Detail
Faculty/Staff Directory
Detail Listing of Faculty/Staff within Digital Measures along with their contact information by Department.
Type of Report: Detail
General Service by Faculty
A detailed listing of Faculty's University, Public, Professional and Clinical Service activity.
Type of Report: Detail
HLC Professional Development Summary
A summary count of Faculty Professional Development Activities and Participating number of Faculty.
Type of Report: Summary
HLC Qualification Report
Lists the Degree, Licensures/Certifications and Tested Experience of Faculty by College.
Type of Report: Detail
HLC Scholarship and Research Summary
A count by College/Department/Individual of Intellectual Contributions, Presentations, Contract/Grants, Performances and Exhibits and Intellectual Property.
Type of Report: Summary and Detail
Intellectual Contributions by Faculty
Listing of Faculty publications for a given time frame.
Type of Report: Detail
Presentations by Faculty
Lists the Presentations given by Faculty with Title, Location, Forum and date given.
Type of Report: Detail
Scheduled Teaching by Faculty
Detailed listing of Courses taught by Faculty by Course Prefix with credit hours and student enrollment.
Type of Report: Detail
Vita
An individual list of Faculty's experience.
Type of Report: Detail