Digital signs on Missouri campus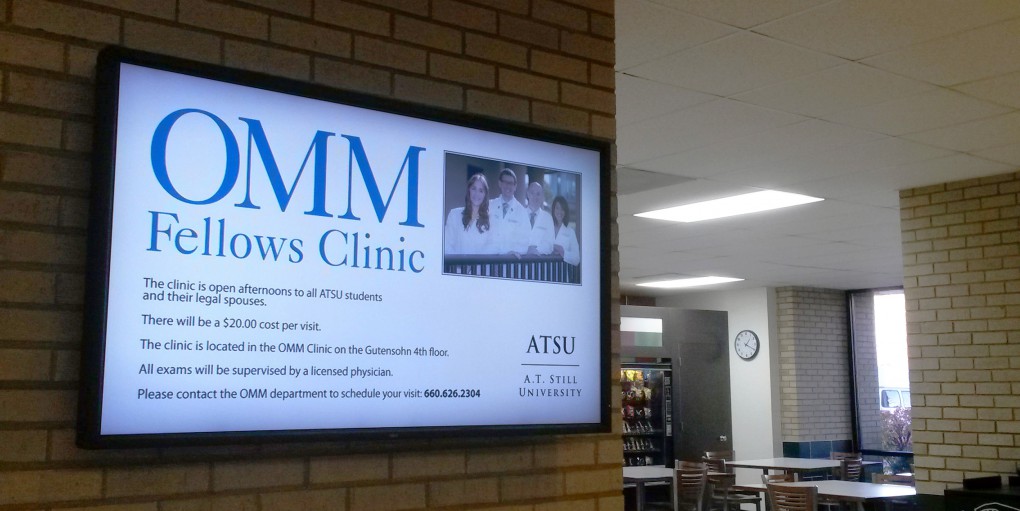 Description
Procedures and resources for digital sign layout and scheduling on the MO campus.
Who is this help for?
All ATSU
How is this item specifically used at A.T. Still University?
Digital signs on the Missouri campus are used to advertise events related to the ATSU community. Examples include; human resources announcements, student/staff events, all-campus meetings, general Marketing for ATSU.
Which ITS department supports this?
Academic Technologies coordinates and schedules digital signs.
Where is this located?
MO campus digital sign locations:
Centennial Commons
Heritage Hall
CITC Lobby
Gutensohn Clinic entrance
IPEDS (1st & 2nd floor)
Mehegan Classroom
Memorial Hall
TCC
Procedure for scheduling
Use the ATSU approved template for your layout or make sure your layout is 1920px by 1080px (26.6" by 15").
Ensure your content follows ATSU's style guide and copyright policy.
Email your layout along with a start and end date to: jcarroll@atsu.edu
*We reserve the right to edit signs if necessary.
FAQs
What size are the slides for the digital signs?
1920px by 1080px (26.6" by 15")